REBATES & PROMOTIONS


Heating and cooling accounts for a significant portion of the energy used in your home or building so choosing an energy-efficient system can have a big effect on your overall energy use. In order to encourage customers to install energy-efficient products, government and other companies may offer rebates on qualified products to residential and commercial customers. Below, you will find a current listing of offers and rebates on LG Air Solution systems available in Canada. Some may be region-specific, so make sure to read the details to see if they apply to you or your region.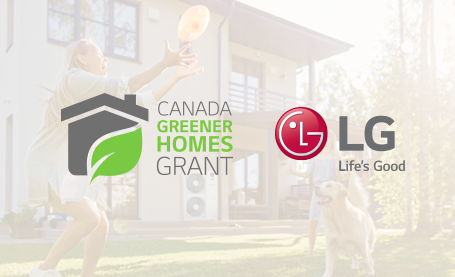 CANADA GREENER HOMES GRANT
Select LG Heat Pumps are eligible for up to $5,000* in government grants.
LEARN MORE
MORE INFO
| INDOOR UNITS | OUTDOOR UNIT | PRODUCT NAME |
| --- | --- | --- |
| 204825177 / LAN090HYV3 | LAU090HYV3 | LG DUALCOOL™ Prestige 9K BTU Mini Split |
| 204825178 / LAN120HYV3 | LAU120HYV3 | LG DUALCOOL™ Prestige 12K BTU Mini Split |
| 204825179 / LAN150HYV3 | LAU150HYV3 | LG DUALCOOL™ Prestige 15K BTU Mini Split |
| 204825180 / LAN180HYV3 | LAU180HYV3 | LG DUALCOOL™ Prestige 18K BTU Mini Split |
| 204825181/LAN240HYV3 | LAU240HYV3 | LG DUALCOOL™ Prestige 24K BTU Mini Split |
| 10567393 / LAN090HSV5 | LSU090HSV5 | LG ARTCOOL™ Mirror 9K BTU Mini Split |
| 10570122/ LAN120HSV5 | LSU120HSV5 | LG ARTCOOL™ Mirror 12K BTU Mini Split |
| 10567390 / LAN180HSV5 | LSU180HSV5 | LG ARTCOOL™ Mirror 18K BTU Mini Split |
| 10567394 / LSU090HSV5 | LSN090HSV5 | LG DUALCOOL™ 9K BTU Mini Split |
| 10570123/ LSN120HSV5 | LSU120HSV5 | LG DUALCOOL™ 12K BTU Mini Split |
| 10567391 LSN180HSV5 | LSU180HSV5 | LG DUALCOOL™ 18K BTU Mini Split |
| 204825182/ LSN243HLV3 | LSU243HLV3 | LG DUALCOOL™ 24K BTU Mini Split with Extended Piping |
| 204825183 / LSN303HLV3 | LSU303HLV3 | LG DUALCOOL™ 30K BTU Mini Split with Extended Piping |
| 204825184 / LSN363HLV3 | LSU363HLV3 | LG DUALCOOL™ 36K BTU Mini Split with Extended Piping |
| 203381526/ LCN098HV4 | LUU097HV | LG 9K BTU Ceiling Mounted Cassette |
| 203381517 LCN128HV4 | LUU127HV | LG 12K BTU Ceiling Mounted Cassette |
| 205788765 LCN429HV | LUU420HHV | LG 24K BTU Ceiling Mounted Cassette |
| 205788771 LCN489HV | LUU480HHV | LG 48K BTU Ceiling Mounted Cassette |
| 10445372 | LMU180HHV | LG 18K BTU Multi F LGRED Hyper Heat Outdoor Unit |
| 206221543 | LMU180HV | LG 18K BTU Multi F Outdoor Unit |
| 10445374 L | LMU240HHV | G 24K BTU Multi F LGRED Hyper Heat Outdoor Unit |
| 10445374 | LMU240HHV | LG 24K BTU Multi F LGRED Hyper Heat Outdoor Unit |
| 206221544 | LMU240HV | LG 24K BTU Multi F Outdoor Unit |
| 206221552 | LMU240HV | LG 24K BTU Multi F Outdoor Unit |
| | LMU 300HHV | 30K LGRED Multi F |
| | LMU36CHV | 36K Multi F |
| | LMU360HHV | 36K LGRED Multi F Max |
| | LMU420HHV | 42K LGRED Multi F Max |
| | LMU480HV | 48K Multi F Max |
| | LMU600HV | 60K Multi F Max |